1 tag
Summer Reading 2013
(A brief ongoing series of ten-word reviews.) The Panther - by Nelson DeMille John Corey: best fictional asshole. (That could have sounded better.)
1 tag
Summer Reading 2013
(A brief ongoing series of ten-word reviews.) The Great Gatsby - by F. Scott Fitzgerald What a bunch of generally unlikeable individuals.  Alas, old sport.
1 tag
Summer Reading 2013
(Ten-word reviews in a brief ongoing series while I'm not teaching and can finally read books again.) The Hunger Games - by Suzanne Collins Too much food. The book was better than the movie.
Actual Student Evaluations
About a week ago, one of my students contacted me, roughly saying: "I just wanted to apologize to you - I think I may have been a little inebriated when filling out your class evaluation, and I think I may have commented on the way you eat grapefruit." Well, the evaluations were made available to me today, and lo and behold, when the evaluation asks the students to answer, ...
Here's to the ECAC
"It's been a long time… and we're sorry. ECAC Hockey fans are sorry that the league hasn't put a team in the title game in 23 years. We're sorry it's been two dozen seasons since a conference member finished on top. We apologize for being dismissed, marginalized, underrated, ignored, and downright insulted for our opinion, pride, and belief that ECAC Hockey is as competitive a league as any...
MLB
Going on record because I'll be entirely wrong. AL East: Rays > Blue Jays > Red Sox > Yankees > Orioles AL Central: Tigers > Indians > Royals > White Sox > Twins AL West: Angels > Athletics > Rangers > Mariners > Astros NL East: Nationals > Braves > Phillies > Mets > Marlins NL Central: Reds > Cardinals > Brewers > Pirates...
1 tag
A follow-up to AggieCon
AggieCon is student run.  I mention this first and foremost because I've seen the product of some student run organizations before, from poor-and-incomplete fundraising right down to the final execution of their poorly-and-incompletely-laid plans. That being said, these kids know what the hell they're doing.  They were prepared and organized, brought in several impressive guests, set...
Inventions
At the wedding last night, some poor unfortunate man was dragged over to talk to me - honestly, harangued and dragged is probably a better term, knowing the person who was doing the dragging - just because I'm a professor now and this man was a former professor of some field or another. After the various niceties that emerge in forced small talk, I asked him how he was enjoying retirement. ...
1 tag
E-mail Exchange With A Random Reader
The following is a series of e-mails exchanged with a STW reader mostly over the past day.  Nothing has been changed from the original e-mails. —— Hello Dante, I woke up from a nightmare last night and immediately knew I needed to tell you about it. I'm sure it won't be as interesting to you as it was to me but I felt it relevant. I had a nightmare where no matter how...
1 tag
Hourly Comics Day 2013 - Batch #2
4PM 5PM 6PM 7PM 8PM 9PM 10PM 11PM
1 tag
Hourly Comics Day 2013 - Batch #1
Doing Hourly Comics like I have in the past, with quicker, simpler lessons, one every hour.  For the record, here are the STW Hourly Comics from 2009, 2010, 2011, and 2012 (pt 1, pt 2, and pt 3). 6 AM 7AM 8AM 9AM 10AM 11AM 12PM 1PM 2PM 3PM
2 tags
A Baby's Days of the Week
A Baby's Days of the Week (to the tune of The Seven Days of the Week by They Might Be Giants) Oh, no, no, I never go to sleep Oh, no, no, I never go to sleep On Mondays, I never go to sleep On Tuesdays, I stay awake On Wednesdays, I never feel inclined Sleep is the last thing on my mind On Thursdays, it's a holiday! And Fridays are the best And I never am tired on a Saturday ...
Grad Student, It's Cold Outside
Tom Mansell and I wrote this a few years ago to be sung as a two person skit at a department Christmas banquet, depicting the indentured servant / master relationship between grad student and professor by comparing it to the goddamn creepiest Christmas song of all time.  Enjoy.  And feel free to present it to your advisor, if you feel you need to get the point across. - - - The holidays are a time...
3 tags
STW SHIRT SALE
Happy Holidays, everyone! That time of year is soon approaching when we all gather together to celebrate the giant lobster at the North Pole that morphs into human form and flies a sleigh around the world. Or maybe we had very different childhoods. At the very least, I bet you wish your version of Santa was more like mine, don't you?  Anyhow, in case you feel so inclined to share some...
1 tag
Nicknames
Occasionally I give out nicknames to Twitter followers.  It's something that only happens once in a while that people have to just happen to be around for.  I offer, they speak, I dub. There's not a lot of thought put into them, and because I"m only willing to give a person one (no do-overs), the quality is wide-ranging.  Might be you want to embrace it, might actually be...
4 tags
An Open Letter to the MLB and FOX
To whom it may concern: After the Red Sox and Rays last night had the benches clear, I was really ready to watch tonight's game.  It wasn't just because tensions would be heightened, but also because there's a number of other great storylines going on, and I really enjoy watching the Red Sox. But you're blacking out the game.  Sure, FOX has the game.  But they're...
The New Holidays For 2012: Stupid Decisions... →
the-new-holidays: May 15th – Stupid Decisions Commemoration is tomorrow! Time to party in recognition of the fact you've been an idiot many times over. And so has everyone else. Why you should celebrate:We've all made a number of dumb choices in our lives – so celebrate this one day with friends to share…
1 tag
More Student Presentations
Here are some more student presentations that were sent in, for you to enjoy: From Amanda in Houston: Lesson Title:  Breaking & Entering File under:  Thing I learned first hand in the last week… "And yes, those are the lock plates from my apartment door jam." (Note from Dante: do not go to Houston, apparently.) - - - From Ben Hornstein and Zach Conley at Baylor...
1 tag
More Student Presentations
I couldn't run all the student presentations I received on the main site, so I'm sharing some of the good ones here. In some cases, I couldn't run the submissions because there was a curse word in it or implied as the crux of the joke - it's not that I don't curse, it's just as a rule that I don't put them in STW.  In other cases, some submissions were...
1 tag
Horoscopes
Here are your personal horoscopes for the upcoming two weeks. - - - - Scorpio (October 24 - November 21) Yes, your life may feel like you're living in a fishbowl, being stared in at by everyone you know.  That does not mean the plastic surgery giving you gills was a good idea. Sagittarius (November 22 - December 21) Relax.  You're not getting progressively worse.  You're...
Content Issues
I originally posted this underneath STW earlier this week - but I know how few people even realize there is text worth reading underneath.  So allow me the opportunity to reiterate. Just this past week I found a site selling the Happiness Maze design without my permission. In the past month, I've found a number of other sites reposting STW with the URL cropped out, or a different URL pasted...
1 tag
Horoscopes
I used to write horoscopes as part of the monthly engineering newsletter we put out in college. Reprinted from years ago, here are my horoscopes for you for the month ahead. - - - - Scorpio (October 24 - November 21) In order to take care of your raging paranoia, dig a protective moat around your dorm and fill it with the world's only venomous mammal, the duck-billed platypus.  You should...
1 tag
Hatemail of the Week
I received this email about two years ago, but for some reason never shared it with you.  For some other reason, I never emailed the person back, either.  I must have been busy.  Either way, I remember it every time I do bracket comics to coincide with the NCAA.  Enjoy. - - - - Dan, You've officially jumped the shark.  It would appear that you're running out of ideas and grasping...
1 tag
Recitation #102 - An Assortment Of Old Questions
The following recitations were among the multitude that came in via email back when they were still going up on the site every Friday.  From them, you can kind of get a sense of why recitations on STW ended.  I was going to put up a video of them being answered but never got around to it.  So here you go. Q) (From Chloe from Aberdeen) Do you know the formula for making a "hit" tv...
Recitation #101 - Recitations Return
Alright, let's break open some recitations for the first time in a long while, eh? Q) (from Madzteir in Aberdeen) I've applied to a graduate program in architecture. How do you recommend dealing with the three-month wait for their response?! A)They say whittling is a great past-time. Q) (from Anonymous in Aberdeen) If an apple became the world's supreme ruler tomorrow, what...
1 tag
Hourly Comics Day 2012 - Batch #3
8PM (made shortly after seeing this AMAZING comic) 9PM 10PM 11PM (made after hearing about the gay marriage bill in Washington state)
1 tag
Hourly Comics Day 2012 - Batch #2
11AM 12PM 1PM 2PM 3PM 4PM 5PM 6PM 7PM
1 tag
Hourly Comics Day 2012 - Batch #1
Doing Hourly Comics like I have in the past, with quicker, simpler lessons, one every hour.  For the record, here are the STW Hourly Comics from 2009, 2010, and 2011. 6AM 7AM 8AM 9AM 10AM
So You Want Recitations To Return?
Well, they won't in chalk form, but if you send them this way from now on, they'll be answered here. Again, they ended several months ago as part of STW because the questions were becoming overly long, overly terrible, or overly impossible to work with.  And since no one wanted to see me give a blank 'are-you-kidding-me' stare every week, they had to go.  But I still get...
"Comics"
There have been a number of comments made yesterday and today about webcomics and comics, and what they mean as terms, and whether or not they mean anything individually, and maybe why they should just be combined into one. And honestly, I don't care.  Probably because from my experience, this has been the wide range of reception for different formats, locations, and mediums: Just because...
The New Year
New Year's Eve always makes me think of this quote.  Just switch out the age for the year, and it's all there. I never thought I'd live to see eighteen.  Isn't that dumb?  Every day, I look in the mirror and say, 'What?  You still here?  Man!'  Like even today, I woke up this morning, you know?  And the sun was shining and everything was nice and I thought...
1 tag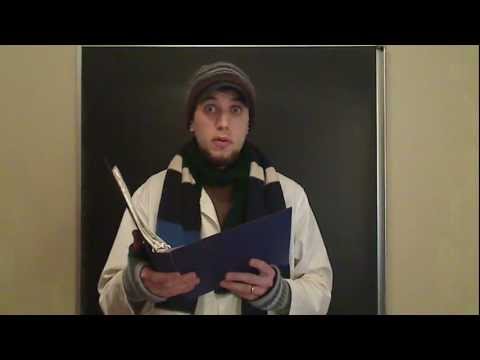 Dante's Six Favorite Christmas Songs
Not your father's Christmas playlist. - - - - - - 6) Sufjan Stevens - "Come Thou Fount Of Evr'y Blessing" 5) Dar Williams - "The Christians and the Pagans" 4) Bruce Springsteen - "Santa Claus Is Coming To Town" 3) Fraggle Rock - "Pass It On" (from the Muppet Family Christmas) 2) Trans-Siberian Orchestra - "Carol of the...
1 tag
Raptor Carols
Do You Smell What I Smell (to the tune of "Do You Hear What I Hear") Said the raptor to another one Do you smell what I smell? Wafting in the air, raptor friend Do you smell what I smell? A child, a child Shivers all alone Let us eat his meat off the bone Let us eat his meat off the bone
1 tag
Raptor Carols
Oh Please No (to the tune of "Let It Snow") Oh the raptor outside is frightful (the sound of a doorknob opening) (the sound of screams) (the sound of evisceration) (silence)
1 tag
Raptor Carols
Raptor Wenceslas (to the tune of "Good King Wenceslas") Raptor Wenceslas looked down At his feast of Stephen Whose bones were all strewn around And meat would be eaten Brightly shown the teeth to bite Glistening with drool Into Raptor's meal that night Celebrating yule
1 tag
Raptor Carols
Raptors Around The Christmas Tree (to the tune of "Rockin' Around The Christmas Tree") Raptors around the Christmas tree Why oh why d'you let them in You are the prey that they can see Now their dinner shall begin You will get a strange and hopeful feeling When you hear Voices screaming right behind you Their meat might slow down a raptor or two Raptors around the Christmas tree Have...
1 tag
Raptor Carols
O Raptor Pack (to the tune of "O Christmas Tree") O raptor pack, o raptor pack Here comes my disemboweling O raptor pack, o raptor pack Here comes my disemboweling I thought that I Could run and hide Forgot you attack from the side O raptor pack, o raptor pack Here comes my disemboweling
1 tag
Raptor Carols
Raptors Are Coming (to the tune of "Christmas Is Coming") Raptors are coming All children should beware If a pack gets your scent Then you have no prayer If you can befriend a raptor You'll have an awesome pet Train him not to eat the neighbor And you'll both be set
The Morning
The alarm went off.  Albert groaned from underneath a blanket, refusing to lift his head.  He unpeeled one eye and glanced at the clock, where four green digits – green, because he remembered reading somewhere that the color was more indusive to reducing hangovers, and Lord knew, he needed all the help he could get in that area - blinked back at him.  10:30 AM.  A fine start to his day off. Loud...
1 tag
Excerpt From the Original STW Script
Surviving the World was originally based on a script I wrote which was going to go nowhere and be read by no one.  I then quickly cannibalized it into the first 100+ STW comics.  Readers have asked to see the original script multiple times.  So here, every now and then, I'll finally begin posting short excerpts of the script. This scene was based on multiple true events that occurred to...
True Adventures In E-mail
There are a lot of people who don't recognize or believe in copyright when it comes to creative works posted on the internet. This leads to cropping images for their own purposes, rehosting material, various ways of shifting credit that would be considered plagiarism elsewhere, and multiple other pains for the creator. I've talked about these issues elsewhere - that sharing the...
The Bar
Edward scuttled into The Dive after another long day at the office.  "Hey, Sid." Sid was, as usual, at work, drying glasses and ready to pour drinks when the rare customer came in.  Sid was generally good-natured, but he was an idiot, the perfect representation of a species noted for a tiny brain penetrated by the gut.  Almost any other lobster was better conversation and a better...
The Neighbors
Ted was reading the paper, drinking his morning coffee, when a loud knocking came at the kitchen door.  He stood up to answer it, and was greeted by the sight of Mr. Henderson, his mustache bristling with irritation, disgust, and anger. "Rufus," Henderson growled, "was on my lawn again this morning." Ted quickly reached out and grabbed his pet, who quickly shrunk down and...
The Encounter
The stranger had come out of nowhere and stepped right in between them.  He stood out in the crowd.  Linda could hear someone in the room shouting for him to be removed, but everyone around them was too shocked at his entrance. "Do you mind if I cut in?" he asked Linda. Linda tried to glance away, back to the person who had just been leaning in, but she was lost in the...
Monday Night Campfire (Cold Open)
I used to work for a Boy Scout camp during the summers.  Every Monday night, shortly after the Scouts had arrived for their week, we would host a small campfire with songs and skits.  None of the skits tied into each other; each was its own individual tale.  Some were good, some were bad.  Some were briefly informative.  Almost all were played for laughs. To me, a campfire does not embody warmth...
Purpose
Maybe this will have one eventually. In the meantime, you know where to find the real sources of STW goodness.  Here.  (And often here.)